Meet Cristina, founder & owner
My inspiration for Emmotiv
I created Emmotiv to celebrate the beauty of human emotion through the art of scent. We live in a world that often encourages us to suppress how we feel. Yet it's our emotions that define our most profound human experiences. And that's worth embracing.
Sharing the power of scent
I've always believed that one of the most powerful ways to embrace our emotions is to tap into our senses, including our sense of smell. With a direct link to areas of the brain that control emotion, scent can instantly calm, uplift and delight. That is why I partnered with some of the world's most talented perfumers to create clean fine fragrances purposely blended to evoke emotions we crave – from unbound joy to grounding calm.
The roots of my passion
My love of fragrance started when I was ten. Born and raised in Romania before the revolution, my family had little access to self-care products. Then one day, my mom received an unusual gift: a bottle of perfume. It was the first time I experienced anything so sensorially delightful. And so started a lifelong passion.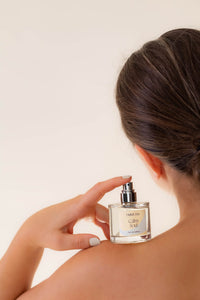 The art and science behind our fragrances
Fine fragrance meets aromatherapy
Developed by some of the world's most talented luxury perfumers, our fragrances fuse the mood-enhancing benefits discovered through aromachology and aromatherapy with the sophisticated and artfully layered composition of perfume. The result is an intimately delightful olfactive experience that proves the power of fragrance comes to life when we wear it for ourselves, not others.
Blended to elevate your mood
Each fragrance in our collection blends aromas linked to desired emotional states – including calm, joy, love and comfort – to help inspire and amplify those feelings. You can learn more about the specific mood-elevating notes in each of our fragrances on their dedicated pages. 
Crafted to complement your rituals
Effortlessly wearable, our Eaux de Parfum are designed to serve as seamless extensions of your daily wellness rituals – sensorial tools in your self-care toolbox you can use to nourish your well-being and refresh your intentions. Unlike traditional perfumes intended to make an impression on others, our perfumes are intended to make an impression on you.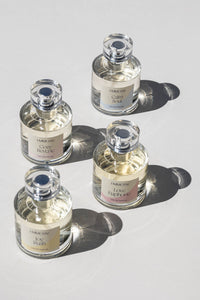 Our ingredient policy
Clean Ingredients
Our fragrances are free of phthalates, parabens, sulfates, formaldehyde, polycyclic musks, nitro musks and other potentially harmful ingredients, in line with the strictest market policy. To learn more, please see our dedicated INGREDIENT POLICY page.
Free of Colorants & UV Inhibitors
This means the tint of our perfumes may shift slightly over time.
Vegan & Cruelty-Free
We only use safe synthetic interpretations of traditionally animal-derived notes like musk. Furthermore, neither our finished perfumes nor raw ingredients are tested on animals. 
EU-Compliant
All our fragrances comply with European Union ingredient safety regulation, which currently bans 1,300+ ingredients.
Fragrance Transparency
We proudly disclose our ingredients – a mix of natural extracts and safe synthetics masterfully blended to elevate your mood. You can find the full list of ingredients on the individual fragrance pages.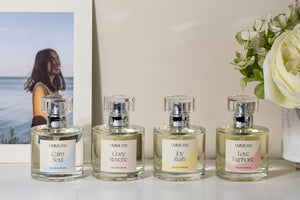 Explore our collection
Celebrate the beauty of emotion and elevate your day with our clean, mood-enhancing Eaux de Parfum.